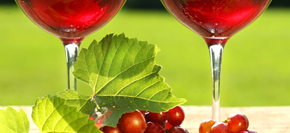 Our Seasonal Favorites
Autumn is a wonderful time to sit back, relax and crack open a bottle of wine to sip and savor as the days slowly grow shorter, the temperature cooler and the leaves more colorful. This time of year calls for rich, heavy wines that are strong enough to match the heartier dishes served to warm you during cold weather.
---
CABERNET SAUVIGNON
Often called the "king" of red grapes, capable of being the most tannic and long–lived of the reds. Complex and supple, aromas of concentrated blackberry and cassis.
Try...
Louis Martini Sonoma Cabernet Sauvignon with steak or a nice fall roast with gravy.


MALBEC
Typically ripe fruit flavors of plums and blackberry give it a jammy characteristic. The tannins are typically a bit tight and the earthy, wood–like appeal makes for a fairly rustic, yet versatile wine.
Try...
Trivento "Amado Sur" Malbec with grilled lamb.


PINOT NOIR
A difficult grape to grow but when it's done right, the wines are delicious with delicate and compelling flavors, good acidity and aromas of cherries, earth, mushrooms, or herbs.
Try...
Mark West Pinot Noir with Marguerite Pizza or Turkey


ZINFANDEL
A densely pigmented grape with high alcohol and highly extracted fruit flavors. Full–bodied red with ripe raspberry fruit accentuated by pepper and spice.
Try...
Ravenswood 'Vintner's Blend' Zinfandel with BBQ ribs.
Mulled Wine
2 bottles dry red wine, 4 oz. port or brandy, 12 whole cloves, 4 cinnamon sticks, 1 large orange, zested.
Combine ingredients in a large pot and bring to a simmer. Do not allow mixture to boil. Heat for 20 minutes and serve.