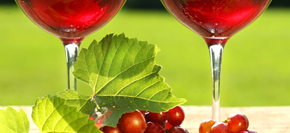 Our Seasonal Favorites
It's time to start shifting from heavy winter red wines and Ports to light, refreshing white wines. For the perfect wines to put a little spring in your sip, look for wines that are easy to buy, easy to open and easy to drink.
---


PINOT GRIGIO
A delightfully delicate sipping wine that quenches the thirst and refreshes the palate. Overall, it is very neutral and pairs with most foods. It can range from high'acid and mineral driven to fleshy, round, and aromatic with notes of lemon, apple, almond or honeysuckle.
Try…
Ecco Domani Pinot Grigio with Seafood Linguine.


SAUVIGNON BLANC
Intensely aromatic and acidic. It can range from grassy, herbaceous, flint and green, to aromas of peach, fresh hay and lemons.
Try…
Rodney Strong "Charlotte's Home" Sauvignon Blanc with oysters, light pastas and mild cheeses.


RIESLING
Ranges from bone dry to intensely sweet. Very distinct with delicate, perfumed, floral, and fruity with fresh apple, and apricot and sometimes mineral and petrol notes. The unsurpassed delicacy of German Riesling makes it the perfect beverage for this most delicate of seasons.
Try…
Chateau Grand Traverse Semi—Dry Riesling with spicy foods.
Wine Punch—Rose' Berry Bliss
1 bottle Clos du Bois Rose', chilled, 1 bag frozen blueberries, 1 container frozen pink lemonade, 1 liter lemon—lime soda, blueberries for garnish. In a large pitcher, mix the Clos du Bois Rose', frozen blueberries and frozen pink lemonade together. Allow the flavors to marry in the refrigerator for an hour. Top with lemon—lime soda.