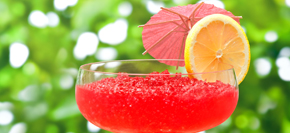 Our Seasonal Favorites
As you finish up your spring cleaning or income taxes and plan your gardens and summer vacations, take some time to sit down on the patio with a refreshing fruit drink that wakens your taste buds from the winter blues.
---
LAVENDER SAPPHIRE COLLINS
A delightful and refreshing mixed drink that is perfect to pull out at the beginning of spring and throughout the summer.
Try...
1 1/2 oz. Bombay Sapphire Gin, 3/4 oz. fresh lemon juice, 1/2 oz. lavender syrup, 3 oz. club soda, Lemon wedge for garnish. Squeeze half a lemon into a Collins glass, add lavender syrup and Bombay Sapphire, stir and fill with ice. Top with club soda and garnish with a lemon wedge.


INCOME TAX COCKTAIL
Whether you are on top of it and filed 3 months early, or are at the post office on April 15th, or are an accountant who has made it through one more tax season, sit back and enjoy this classic cocktail to celebrate your accomplishment.
Try...
2 oz. gin, 1/4 oz. sweet vermouth, 1/4 oz. dry vermouth, 1 oz. orange juice, Angostura bitters to taste, orange twist for garnish. Pour the ingredients into a shaker with ice cubes. Shake well. Strain into a chilled cocktail glass. Garnish with the orange twist.


EASTER BUNNY
This chocolate and cherry mix will fix your springtime sweet tooth.
Try...
1 1/2 oz. dark creme de cacao, 1/2 oz. vodka, 1 tsp chocolate syrup, 1 tsp cherry brandy. Pour the creme de cacao and vodka into a cocktail shaker with ice. Shake well. Strain into an old—fashioned glass with ice cubes. Float chocolate syrup and cherry brandy on top.
Try...
Fulton's Harvest Pumpkin Pie Cream Liqueur in coffee or in cocktail recipes.


HOT TODDY
Perfect to warm you after a cold day of raking leaves, this drink caters to your favorite, whether brandy, whisky or rum.
Try...
1 oz. brandy, whiskey or rum, 1 Tbsp honey, 1⁄4 lemon, 1 cup hot water, 1 tea bag. Coat the bottom of a mug with honey. Add the liquor and the juice from the lemon quarter. On the side, heat water and add the tea bag to make hot tea. Pour the steaming tea into the glass and stir.


IRISH COFFEE
What better time of the year to serve up a warm coffee drink to enjoy? This classic is a guaranteed crowd pleaser.
Try...
1 shot of Irish whiskey, 2 tsps of brown sugar, coffee, light cream or whipped cream. Mix brown sugar and whiskey into a coffee glass. Add coffee up to 1⁄2 inch from the glass rim. Add a splash or two of light cream to taste, or decorate with whipped cream.


GREEN APPLE
A trip to the orchard makes for great fall fun, but why leave home to enjoy the flavors of the harvest?
Try...
2 shots of Lime Vodka, 2 shots of Sour Apple Liqueur, 7Up or Sprite Build over ice in a highball glass. Top off with Sprite or 7Up.